How To Contact Us

TRI WEST
1817 Peacock Blvd
Oceanside, CA 92056
(800) 423-6377
(310) 823-7552
(760) 724-0448 - FAX
E-mail us using our contact form
E-mail at triwest@att.net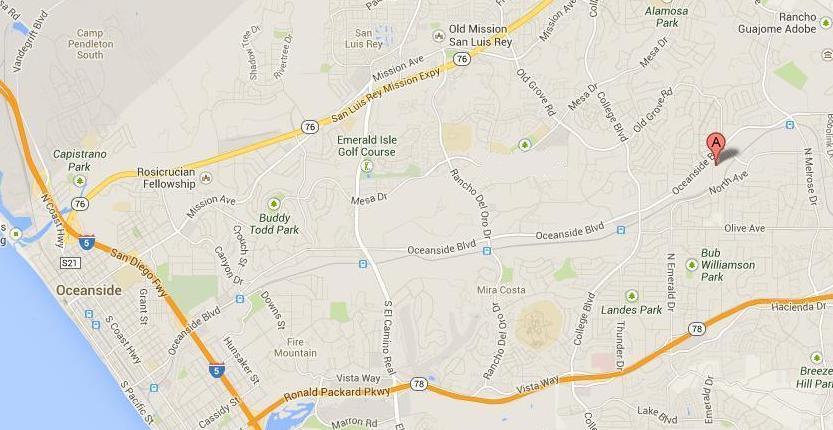 ---
What We Do
TRI West offers a range of services to both the timeshare owners as well as those considering the purchase of a timeshare. Our clients who wish to sell their timeshare list their property with our company. Most of the properties listed with us are priced below the current developers price. How low depends mainly on how long the property was owned and how anxious the owner is to sell.
When someone contacts us about the purchase of a timeshare we encourage them to check the developer pricing. This information can be obtained by looking at our Timeshare Blue Book or from our licensed agents. Once you have an idea of the current developers pricing you can then structure an offer to an existing owner who wishes to sell. Our licensed agents will convey the offer to the owner for you.
TRI will assist in all the necessary paperwork to transfer ownership of the property to a new buyer. Commissions vary, but average 15% (subject to a minimum) on the sale of the property. These commissions are paid by the seller, as in most real estate transactions.Also, as in most real estate transactions buyers may negotiate with sellers until a mutually agreed upon price is reached.
We assist both buyers and sellers in achieving their goals. Many clients who have purchased through TRI West have indicated that they purchased at a savings over current prices. Most timeshares are conveyed as deeded ownership, however there are what is referred to as "right to use" property which gives the owner usage of the property for a specified number of years.
Should a new buyer be unfamiliar with timesharing our agents will be happy to spend as much time as you need answering specific questions on timeshare ownership. It is important to keep in mind that owning a timeshare is a way of hedging the spiraling costs of vacationing. It is not to be viewed or purchased as an investment.
There are far better investments available to you, but for luxurious vacations at a great price, you cannot beat it!. For those of you reading this who currently own a timeshare and wish to sell, TRI West can assist you.
Since we have been in business since 1981 the TRI West name is recognized as a symbol in the industry as one of the oldest and most reputable resale and rental companies.We have several plans available for sellers and buyers.
We encourage you to surf our homepage for a list of options that are available to you through our company's resale and rental divisions.

All About TRI West Index


---
About TRI West
TRI West Real Estate has been offering education and advice on timeshare ownership since 1981. They specialize in the resale and rental of quality timeshare resorts worldwide. TRI West Real Estate is the largest and oldest licensed resale and rental broker on the west coast and is recognized as an innovative pioneer in the timeshare resale/rental marketplace.
TRI West was the first company to:
| | |
| --- | --- |
| 1982 - | publish a monthly Timeshare Multiple Listing (MLS) book |
| 1985 - | conduct live annual National Timeshare Auctions |
| 1995 - | publish a combined (II/RCI) Resort Directory Guide |
| 1995 - | create the "Home of the Timeshare Bluebook" website |
| 1997 - | be approved by the California Department of Real Estate for optional Timeshare Multiple Listing Services |
| 2000 - | open a storefront Timeshare Resale & Rental Vacation Gallery |
| 2003 - | open Vacation Home Alternatives department for upscale fractionals |
TRI West has over 5,000 current listings worldwide with a large selection in Arizona, California, Hawaii, Nevada and Mexico. Information on available listings, as well as consumer tips on renting or buying timeshares, is provided by TRI West licensed agents and at http://www.triwest-timeshare.com.
The company has sold over 7,000 timeshares and processed over 3,000 rental transactions for owners, buyers and travelers worldwide.
TRI West current services and fees are:
| | |
| --- | --- |
| Listing a timeshare for sale | no charge |
| Listing a timeshare for rent | no charge |
| Optional MDR Telecom MLS exposure | $225 |
| Sale commission subject to minimum | 15% |
| Rental commission subject to minimum | 40% |
| | |
| | |
| | |
TRI West is a member of the following organizations:

American Resort Development Association (ARDA)
Co-Operative Association of Resort Exchangers (CARE)
Los Angeles Better Business Bureau (LABBB)
LAX Coastal Area Chamber of Commerce (LAXCC)
Venice Chamber of Commerce (VCC)
Beverly Hills/Greater Los Angeles Association of Realtors (BHGLAAR)
California Association of Realtors (CAR)
National Association of Realtors (NAR)
Resale Broker Alliance (RBA)
All About TRI West Index

---
Viccie Mac, Sales and Rental Manager
Viccie Mac, TRI West Sales and Rental Manager, has been in the timeshare business since 1978. Before joining TRI West she managed the marketing of off-site broker timeshare sales for several real estate offices for resorts in Arizona, Utah and Mexico. Mac gained additional resort experience as director of sales at a major Arizona resort. She has been active in the rental of timeshares since 1986 and began focusing on owner rentals in 1990. Viccie was quoted in a Family Circle article on timeshare and villa rentals titled "Your Dream Vacation - How to Get the Best Deals".
Viccie published the first "Owner's Guide to Renting" and "Rental Tips for Owners" in 1992. Mac has also developed a number of processing tools to facilitate the efficient processing of owner rentals for both the owner and traveler, as well as the resort. She is currently licensed in Arizona and California and manages both the sales and rental activities for TRI West. Senior Sales Agents include Greg Gibson and Betty Zipf.
All About TRI West Index

---
Mario Collura, President and Broker
Mario Collura, President and Broker of TRI West, entered the timeshare industry as one of the developers at The Whaler in Maui, Hawaii in 1979. During the next few years he was also a sub-broker for a number of timeshare projects in CA, HI, and Mexico.
Since 1981 he has concentrated his efforts on helping to create a viable secondary market for the resales and rentals of timeshare properties.
Collura is the author of "Mario's Tips" and is frequently quoted in national media, including: Consumer Digest, Consumer Reports, Dollar $ense, Forbes and Kiplinger's Personal Finance Magazine. His "Tips", along with the other educational tools developed by TRI WEST, provide the basis for educating the consumer about timeshares and ultimately creating a mature secondary market for the timeshare industry.
Mario earned a BSEE from Case Western Reserve University and has conducted graduate work toward an MBA Degree at UCLA. He is licensed in California as a general contractor, and as a real estate broker in the states of Arizona, California and Nevada. He has been a guest speaker on the subject of Timeshare Resales and Rentals at conventions of both the California Association of Realtors and ARDA, as well as many resort and management homeowner association meetings. He also served as an expert witness to testify regarding the value of timeshare property for California, Florida, and Federal court cases.
TRI West is a licensed real estate broker specializing in the resale and rental of Residence Club properties at Four Seasons Residence Club at Aviara in Carlsbad California and at Scottsdale Troon North in Arizona. Mario Collura, President of TRI West, was a Preferred Resale Broker from 2003 to 2008
All About TRI West Index

---
For more information, contact TRI West Real Estate at:

1817 Peacock Blvd
Oceanside, CA 92056


The nationwide toll free info line is (800) 423-6377.
TRI West can be emailed at triwest@att.net or reached online at http://www.triwest-timeshare.com.